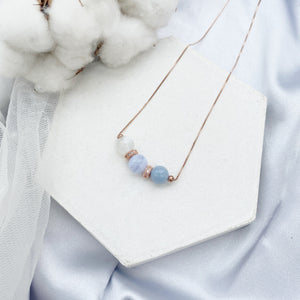 Necklace: OLEANDER
Crystal: Milky Moonstone, Blue Lace Agate and Angelite
Material: S925 Silver Chain with 18K Rose Gold plated/18K White Gold plated
Necklace Length: 40cm with 5cm extension chain
.
Moonstone [SRI LANKA]
Moonstone helps the digestive system and the assimilation of nutrients. Moonstone also helps to eliminate toxins and fluid retention.
Blue Lace Agate [BRAZIL]
Blue Lace Agate, a calming stone, helps release repression, fear, anxiety and the fear of being judged.
It also improves concentration and analytical ability, leading to practical solutions. It boosts one's efficiency and eliminates procrastination.
Angelite [MEXICO]
Angelite releases blockages in the physical, emotional and mental subtle bodies. It regenerates the physical body and strengthens the immune system. It resonates with the throat chakra by balancing the thyroid and parathyroid. Angelite is an excellent stone for weight control as it acts as a diuretic and balances the fluid in the body.
.
Due to its natural characteristics, some crystals, pearl and jade may have natural inclusions or surface marks even after being polished. You may expect slight variations in color and size due to studio lighting or variances in computer and mobile phone screen calibration. We do, however, strive to ensure that screen colours are true to life, as much as possible.
Please note that the crystal, pearl or jade you receive may not be exactly the same as the one featured in the photo as every crystal is unique in appearance and may have some natural inclusions or color variance. We may change the size of the beads or type of findings to suit the wrist size of your request.
Delivery
Orders are generally dispatched within 5-7 working days after receipt of payment.