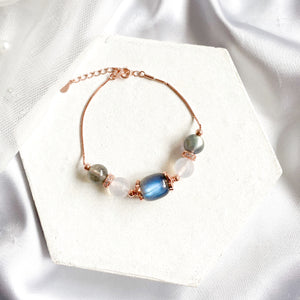 Design Your Own Bracelet
Fit wrist size: 14cm to 18cm
Labradorite [RUSSIA]
Labradorite is a highly mystical and protective stone. It raises consciousness and connects with universal energies. It deflects unwanted energies from the aura and prevents energy leakage. Psychologically, Labradorite banishes fears and insecurities from previous disappointments. It calms an overactive mind and stimulates the imagination to bring more new ideas. This crystal is also a useful companion for changes as it imparts strength and perseverance.
Please note that the crystal you receive may not be exactly the same as the one featured in the photo as every crystal is unique in appearance and may have some natural inclusions or color variance. We may change the size of the beads or type of findings to suit the wrist size of your request.

Delivery
Orders are generally dispatched within 5-7 working days after receipt of payment.