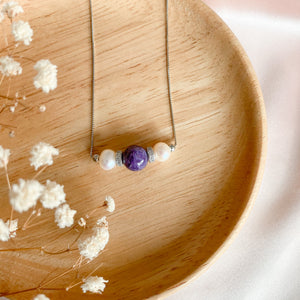 Necklace: Chaorite Tri Pearl
Crystal: Chaorite
Material: S925 Silver Chain with 18K Rose Gold plated/18K White Gold plated
Necklace Length: 40cm with 5cm extension chain
.
Charoite 
Charoite stimulates unconditional love and provides deep physical and emotional healing. Psychologically, it helps to remove negative thoughts and deep fears and encourages self-expression. Charoite gives you clarity of mind and helps speed up decision-making processes. Spiritually, it encourages a path of service to humanity and brings insightful visions of past life.

Fresh water pearl
Pearls symbolize Purity, Transformation, Honesty, Wisdom and Integrity. It is known to be calming sand helps one manage their temper, useful in strengthening relationships. This iridescent beauty helps improve memory and concentration. It is also believed to treat digestive disorders and the soft organs of the body.
Due to its natural characteristics, some crystals, pearl and jade may have natural inclusions or surface marks even after being polished. You may expect slight variations in color and size due to studio lighting or variances in computer and mobile phone screen calibration. We do, however, strive to ensure that screen colours are true to life, as much as possible.
Please note that the crystal, pearl or jade you receive may not be exactly the same as the one featured in the photo as every crystal is unique in appearance and may have some natural inclusions or color variance. We may change the size of the beads or type of findings to suit the wrist size of your request.
Delivery
Orders are generally dispatched within 5-7 working days after receipt of