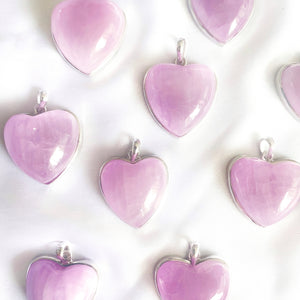 - Every piece of Kunzite crystal is unique and you will receive a special piece from our stock.
- Complimentary rhodium chain with every Kunzite pendant purchase.
Size of Kunzite:
Small Heart [estimate widest: 1.6cm]
Big Heart [estimate widest: 1.9cm]
Focus: Love, Reduce Stress, Protects Against Negativity 
Material: S925
Crystals: Larimar
Kunzite [USA]
Kunzite stimulates the heart chakra and induces unconditional love. It can be used to free up emotional debris, healing trauma and heartache. Kunzite also protects against negativity and ill-wishing. It protects the aura from bad vibes as well as from geopathic stress. Kunzite encourages self-expression and is useful to combine intellect, intuition and inspiration.

Due to its natural characteristics, some crystals, pearl and jade may have natural inclusions or surface marks even after being polished. You may expect slight variations in color and size due to studio lighting or variances in computer and mobile phone screen calibration. We do, however, strive to ensure that screen colours are true to life, as much as possible.
Please note that the crystal, pearl or jade you receive may not be exactly the same as the one featured in the photo as every crystal is unique in appearance and may have some natural inclusions or color variance. We may change the size of the beads or type of findings to suit the wrist size of your request.
Delivery
Orders are generally dispatched within 5-7 working days after receipt of payment.
All goods sold are non-exchangeable and non-refundable.