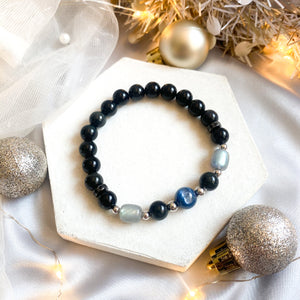 The charm position will be the same as shown on the photo unless stated in note.
Bracelet: BRAVE
Crystal: Obsidian, Labradorite, Kyanite
Material: 18K Silver plated
Obsidian [MEXICO]
Obsidian is a highly protective stone, forming a shield against negativity and psychic attack. It can be used to remove geopathic stress and other environmental pollution. Obsidian brings clarity of mind and clears confusion and constricting beliefs.
Labradorite [RUSSIA]
Labradorite is a highly mystical and protective stone. It raises consciousness and connects with universal energies. It deflects unwanted energies from the aura and prevents energy leakage. Psychologically, Labradorite banishes fears and insecurities from previous disappointments. It calms an overactive mind and stimulates the imagination to bring more new ideas. This crystal is also a useful companion for changes as it imparts strength and perseverance.
Kyanite [BRAZIL]
Kyanite is a powerful amplifier of high frequency and helps to stimulate psychic abilities and intuition. Its grounding spiritual vibration helps to facilitate dream recall and promotes astral body travelling. Kyanite stimulates the throat chakra and aids with self-expression and speech.
.
Due to its natural characteristics, some crystals, pearl and jade may have natural inclusions or surface marks even after being polished. You may expect slight variations in color and size due to studio lighting or variances in computer and mobile phone screen calibration. We do, however, strive to ensure that screen colours are true to life, as much as possible.
Please note that the crystal you receive may not be exactly the same as the one featured in the photo as every crystal is unique in appearance and may have some natural inclusions or color variance. We may change the size of the beads or type of findings to suit the wrist size of your request.

Delivery
Orders are generally dispatched within 5-7 working days after receipt of payment.
NewAge FSG @ Dhoby Ghaut
60 Orchard Road, #B2-04, Atrium @ Orchard,
(Dhoby Ghaut NE Line), Singapore 238889