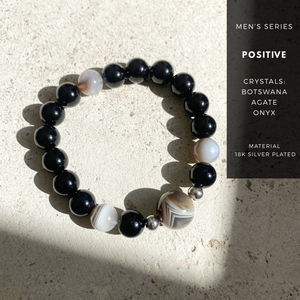 The charm position will be the same as shown on the photo unless stated in note.
Crystal: Agate and Onyx
Material: 18K Silver plated
Agate [BRAZIL]
Agate is a soothing, calming and grounding stone that brings about an emotional, physical and intellectual balance by balancing yin and yang. Psychologically, it helps acceptance of oneself and builds confidence. It also helps to bring one's attention to any disease that might interfere with one's well being. Agate helps to improve concentration, perception and analytical abilities and encourages one to speak the truth. Emotionally, it helps to overcome negativity and bitterness of the heart; useful for emotional trauma and creates a sense of security and safety. It also raises consciousness and awareness and helps in spiritual growth and stability.
Onyx [BRAZIL]
Onyx is a protective stone. It wards off negative energies such as ill-will and bad intentions. Psychologically, it promotes vigour, steadfastness and stamina. It imparts self- confidence and bring you at ease with the surroundings. It is a good grounding stone and helps to alleviate worry and fears, bringing peace and joy to your life.
.
Due to its natural characteristics, some crystals, pearl and jade may have natural inclusions or surface marks even after being polished. You may expect slight variations in color and size due to studio lighting or variances in computer and mobile phone screen calibration. We do, however, strive to ensure that screen colours are true to life, as much as possible.
Please note that the crystal you receive may not be exactly the same as the one featured in the photo as every crystal is unique in appearance and may have some natural inclusions or color variance. We may change the size of the beads or type of findings to suit the wrist size of your request.

Delivery
Orders are generally dispatched within 5-7 working days after receipt of payment.
NewAge FSG @ Dhoby Ghaut
60 Orchard Road, #B2-04, Atrium @ Orchard,
(Dhoby Ghaut NE Line), Singapore 238889