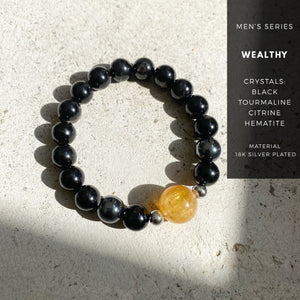 The charm position will be the same as shown on the photo unless stated in note.
Crystal: Citrine, Hematite and Black Tourmaline
Material: 18K Silver plated
Citrine [BRAZIL]
Citrine is a powerful cleanser and regenerator. It helps the body to absorb positive energies and can energise every level of your life. It is a stone of abundance which will teach you to manifest and attract wealth, prosperity, success and all good things. Citrine helps motivate, promotes creativity and encourages self- expression. It makes you less sensitive, especially to criticism. It helps raise one's self- esteem, positivity and optimism and is an excellent stone to overcome depression, fears and phobias.

Black Tourmaline [BRAZIL]
Black Tourmaline is an excellent stone for protection against negative energies. It cleanses, purifies and disperses negative energy and protects against psychic attacks and ill-wishes. When placed between yourself and an electromagnetic source, it helps to shield against the electromagnetic radiation. It is also a powerful mental healer and transmutes negative thoughts to positive ones.
Hematite [BRAZIL]
Hematite restores peace and harmony to the body by clearing negative energies from the aura. It is a good grounding stone and is an excellent stone for meditation. It enhances your will-power, self-esteem and confidence by removing all negative traits like self-limitation, procrastination and lack of confidence. Hematite also helps you overcome addiction, compulsion and over-indulgence.

Due to its natural characteristics, some crystals, pearl and jade may have natural inclusions or surface marks even after being polished. You may expect slight variations in color and size due to studio lighting or variances in computer and mobile phone screen calibration. We do, however, strive to ensure that screen colours are true to life, as much as possible.
Please note that the crystal you receive may not be exactly the same as the one featured in the photo as every crystal is unique in appearance and may have some natural inclusions or color variance. We may change the size of the beads or type of findings to suit the wrist size of your request.

Delivery
Orders are generally dispatched within 5-7 working days after receipt of payment.
NewAge FSG @ Dhoby Ghaut
60 Orchard Road, #B2-04, Atrium @ Orchard,
(Dhoby Ghaut NE Line), Singapore 238889