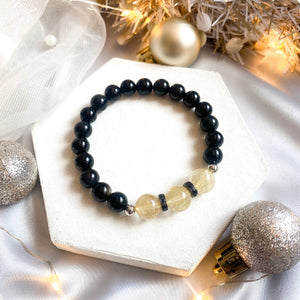 The charm position will be the same as shown on the photo unless stated in note.
Bracelet: PROSPEROUS
Crystal: Obsidian and Gold Rutilated Quartz
Material: 18K Silver plated
Obsidian [MEXICO]
Obsidian is a highly protective stone, forming a shield against negativity and psychic attack. It can be used to remove geopathic stress and other environmental pollution. Obsidian brings clarity of mind and clears confusion and constricting beliefs.
Gold Rutilated Quartz [BRAZIL]
Gold Rutilated Quartz is an effective integrator of energy. Gold Rutilated Quartz removes fears, anxiety, self- constrictions and helps facilitate transition and provides solution to current problems. It also attract endless wealth and luck. Gold Rutilated Quartz Crystal is a powerful energy booster helps prevent lethargy and fatigue.
.
Due to its natural characteristics, some crystals, pearl and jade may have natural inclusions or surface marks even after being polished. You may expect slight variations in color and size due to studio lighting or variances in computer and mobile phone screen calibration. We do, however, strive to ensure that screen colours are true to life, as much as possible.
Please note that the crystal you receive may not be exactly the same as the one featured in the photo as every crystal is unique in appearance and may have some natural inclusions or color variance. We may change the size of the beads or type of findings to suit the wrist size of your request.

Delivery
Orders are generally dispatched within 5-7 working days after receipt of payment.
NewAge FSG @ Dhoby Ghaut
60 Orchard Road, #B2-04, Atrium @ Orchard,
(Dhoby Ghaut NE Line), Singapore 238889